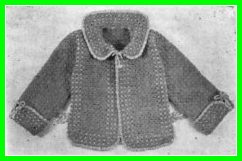 This stylish looking vintage crochet jacket pattern for little girls is timeless in its appeal. Unfortunately, it doesn't really provide a size and the yarn suggested is no longer available. Seems like the best way to check for size would be with the collar and using different yarn weights.
If anyone does give this crochet jacket pattern a go, please let us know your results and any suggestions you may have for others.
Materials required are 12 skeins of gray Germantown yarn and 1 skein of blue.
Make a chain of 52 stitches.
1. A double in 8th stitch of chain, * chain 3, miss 3, 1 double in next; repeat from * 10 times, making 12 loops in all, turn.
2. Chain 4, 3 trebles in 1st loop, * chain 1, 3 trebles in next loop; repeat from * across the row, ending with 4 trebles, turn.
3. Chain 4, a double under 1 chain, * chain 3, a double under next; repeat to end of row.
Repeat 2d and 3d rows 23 times, making 24 rows of blocks in all, alternating with rows of loops. Divide the width into three parts, 4 blocks for back of neck and 4 for each front. Work same as 3d row until you have made 4 blocks, the last block of 4 trebles, turn and work back same as 3d row. Repeat these 2 rows twice more; in next row, to widen, make 6 trebles under 4th loop, chain 4, turn, miss 3 of 6 trebles, a double between next 2, chain 3, fasten under 1 chain, and continue across. The next row will consist of 5 blocks, and there are 20 rows of 5 blocks each, in all, making the same length of back. Make the other front in exactly the same way.
For the border of your crochet jacket:
1. Fasten in at corner of neck (at end of 1st row of 5 blocks), work in blocks down the front, across the bottom, putting 3 extra trebles at each corner to turn smoothly, up over shoulder and down back, and so on around to opposite corner, omitting the stitch between blocks.
2. Fasten blue yarn at right front and work a row of loops as described, fastening the chains between groups of 3 trebles.
Make 3 more rows of blocks, same color as body of jacket, with always the 3 extra trebles (6 in all) at corners to turn, and following the 2d and 3d rows with the row of loops in blue.
For the sleeve: Fold the crochet jacket evenly and fasten yarn at the back of jacket, at the desired width for sleeve
---
---