Knitting
Free knitting patterns from The Crafty Tipsters.
No one in our family knits but we have found a variety of vintage knitting patterns that we thought were worthy of sharing. Because we do not knit ourselves, we can't provide you with any guidance on how difficult the patterns might be or if they are complete.
If you do attempt any of our free vintage knitting patterns, please let us know how it went and whether the patterns require any corrections. We would also love to post a picture of your project.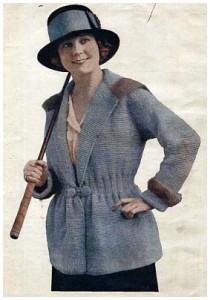 This lovely vintage knit cardigan-style long-sleeve sweater looks quite stylish and the instructions don't appear to utilize any complicated stitches or methods – at least to this non-knitter, anyway. It does require several different sized knitting needles.
Posted in: Knitting, Vintage Crafts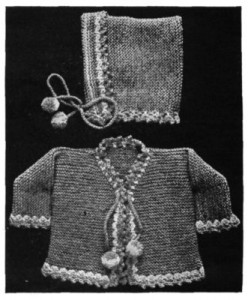 This pretty little baby set is from a vintage knitting pattern. It appears to use two different colors of yarn and seems like the instructions are fairly straight-forward.
Posted in: Knitting
This vintage knitting pattern to make a pair of fancy ladies gloves dates back to 1918. Again, it might be a bit tricky determining the right yarn/needle combination but it seems like you could see how the main glove fits over your hand without having to invest too much time before testing.
Posted in: Knitting, Vintage Crafts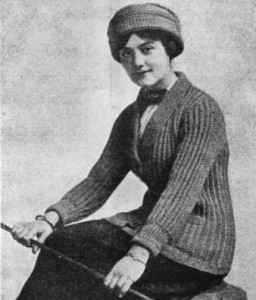 This vintage knitting pattern creates a coat measuring twenty-six inches from shoulder to hem but unfortunately does not provide any other measurements. The original pattern claimed, "It may easily be made longer, if desired, but the model is an excellent one for ordinary wear, and very "natty," and it has the merit of being quickly knitted." Since I don't knit I will have to take the author's word for that unless someone lets me know otherwise.
Posted in: Knitting, Vintage Crafts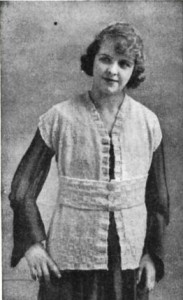 This sleeveless jacket is a vintage knitting pattern that dates back to 1918. With a cinched-type waist, it looks very much like the styles in the stores today and might make a great addition to your wardrobe.
Posted in: Knitting, Vintage Crafts