Vintage Crafts
I decided to include a section on The Crafty Tipster which indexed all of the free vintage craft projects that appear across the site.
The vintage crochet, knitting, spool knitting and craft projects in this category are all quite old but their appeal is timeless. I see many of the techniques, styles and shaping being incorporated into modern patterns and were I to post some of these patterns with new pictures, I doubt that many would know their true age.
My research of copyright law and the materials themselves would indicate that all of the patterns in this section are in fact in the public domain and may be used however you wish. My designation of public domain follows the copyright laws of the United States and if you live elsewhere, you may wish to confirm the pattern's status in your own country with the information provided.
I hope that you can utilize these public domain craft projects and would love to see how they turn out for you. If you have any suggested corrections or find any instructions that could use clarification or further explanation, please leave your comments on that post so that others may benefit from your advice.
Most importantly, have fun!
This embroidery pattern may be over 100 years old but its appeal is timeless. This cross stitch bug pattern is easy to stitch and quite pretty when done.
Posted in: Embroidery Stitches & Patterns, Free Cross Stitch Designs & Tutorials, Vintage Crafts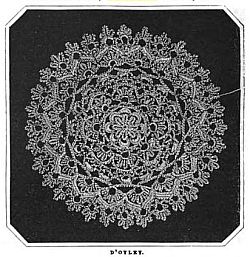 Wonderfully looped and stylized vintage crochet doily pattern. It uses only three stitches but it still looks like it might pose a challenge to even experienced crocheters.
Posted in: Crochet, Crochet Doilies, Vintage Crafts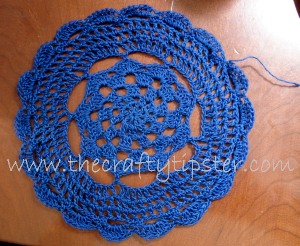 Our first Easy Doily Pattern was truly a Crafty Tipster original pattern. Our second easy crochet doily is a vintage design where I've rewritten the pattern and added instructions on how to begin and end each row to make it easier for beginning crocheters.
Posted in: Crochet, Crochet Doilies, Vintage Crafts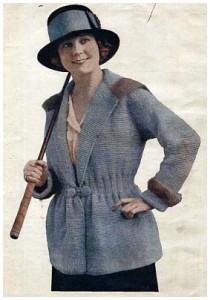 This lovely vintage knit cardigan-style long-sleeve sweater looks quite stylish and the instructions don't appear to utilize any complicated stitches or methods – at least to this non-knitter, anyway. It does require several different sized knitting needles.
Posted in: Knitting, Vintage Crafts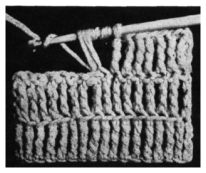 Several of the vintage crochet pattern books where I found the old patterns on The Crafty Tipster make use of the English style of crochet. More modern crocheters will easily recognize the stitches but when it comes to the definitions of single, double and treble crochet the number of loops may differ. With that in mind, I've included here a guide to those English crochet stitches that were employed for the vintage crochet patterns from the text The Handbook of Wool Knitting and Crochet.
Posted in: Crochet, Crochet Techniques, Vintage Crafts