Spool Knitting
Spool knitting is an old and ancient technique for weaving strong cording. The earliest known use of this technique dates back to the Vikings who uses a tool called a lancet. Lancets were made of wood or bone and had just two prongs.
Our parents and grandparents most likely used old wooden spools and nails to create their spools. The problem with using spools from sewing thread is that the size is fairly uniform and therefore limits the size and shape of the resulting cording. Wooden spools have also become a bit harder to obtain as most of the sewing thread today comes on plastic spools. Many toy stores now carry plastic knitting spools that are sold alone, as kits or in a graduated series of sizes.
Spool knitting is having something of its own renaissance and along with knitting in general has become very popular. The explosive growth of crafting has led to a more varied and exciting selection of yarns than ever before, making it more fun to craft with yarn. Spool knitters still make their own spools/looms but now they can also go to their nearby craft or hobby store and choose from a variety of spool knitting looms and even find some crank models that can crank out cording much faster than could ever be done by hand.
Through the years the spools/looms had quite a few different names: knitting nellies, knitting nancys, knitting knobbies/noddies, and knitting spools. Today's spool knitting looms are often referred to as round looms.
This section of The Crafty Tipster includes a series of tutorials on how to spool knit, how to use a knitting spool to make flat webbing and several spool knitting projects.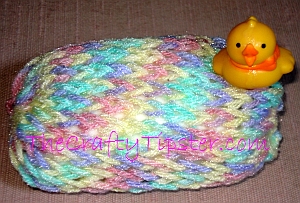 This super quick and easy tutorial for a spool knitting project to make soap covers. Glam up your soap or just make your own personal scrubby. Rub-a-dub-dubbing in the tub was never so much fun.
Posted in: Spool Knitting, Spool Knitting Projects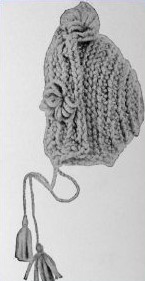 Another of the wonderful vintage spool knitting patterns from Mary A. McCormack, the Spool Knit Hat pattern comes with instructions for making a knit dolly hat and a knit child's hat.
What little girl wouldn't love having her favorite dolly's hat or bonnet match her own?
Posted in: Spool Knitting, Spool Knitting Projects, Vintage Crafts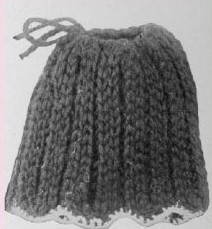 The great thing about this spool knitted doll skirt pattern is it is so easily adaptable for any size doll. The doll skirt pattern dates back to 1909. Little girls today should have even more fun making skirts for their dolls with all of the new pretty colors and textures of yarn available.
Posted in: Spool Knitting, Spool Knitting Projects, Vintage Crafts
A quick and clever cat toy made from spool knit cord that is perfect for kids to make for their feline friends.
Posted in: Spool Knitting, Spool Knitting Projects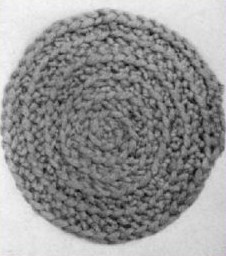 A vintage spool knitting project that takes 2-post cording and uses it to create a flat mat.
Posted in: Spool Knitting, Spool Knitting Projects, Vintage Crafts