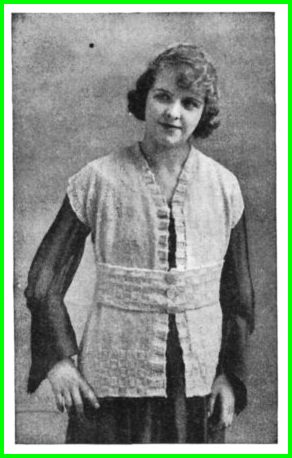 This lovely free vintage knitting pattern for a cute sleeveless sweater dates back to 1918 but seems like it could easily become a favorite today.
(I'm not a knitter so I have no suggestions or concept of whether this pattern is difficult or easy or incomplete. If anyone gives it a try, please let me know if you have any comments or suggestions.)
This knit sleeveless sweater pattern requires six skeins of Shetland floss and a pair of No. 5 amber needles.
Cast on 85 stitches; knit in basket-stitch, as follows:
1. * Knit 5, purl 5; repeat across, ending with knit 5.
2. Purl 5, knit 5; repeat across, ending with purl 5.
Repeat these two rows twice, making 6 rows in all; then to change the check knit 7th row like 2d, 8th like 1st, repeat twice, and again change the check by repeating from 1st row. Continue until the border is five checks deep, or 30 rows.
Knit across plain and purl back for 84 rows; narrow 1 stitch each side every other row, three times, for the armhole, leaving 79 stitches on your needle, and giving 89 rows from the border. Knit across plain and purl back for 38 rows; putting these stitches on a large safety-pin for convenience, knit 31, bind off 17 stitches for neck, and on the remaining 31 stitches, knit 6 rows back and forth, or 3 ribs, to give the effect of a seam on the shoulder. Continue the front, knitting across and purling back, adding a stitch toward the front each time to make the neck V-shaped, for 38 rows; then add 1 stitch at the armhole, and next row cast on 8 stitches for underarm. Do not widen further toward the front, but continue knitting forward and purling back for 85 rows; then make the border of 30 rows, five checks wide, to correspond with the back, and bind off. Knit the other front to correspond.
Pick up the stitches around armhole, 80 in all, and knit 5, purl 5 for 6 rows, making an edge of checks; bind off. Pick up the stitches on front, to the center of back of neck, about 175 in all, make a row of checks to correspond with the arm, and bind; work a border in the same way on other side of front, and sew neatly at back of neck, also join the underarm seams, taking care to match the checks of the border perfectly.
For the belt: Cast on 25 stitches, and proceed as directed for the border until you have the desired length; the belt illustrated is 42 checks long. Across one end crochet 3 chain loops, filling these with doubles, and sew to the other end three pearl buttons to match. The belt is caught along the top in the back, giving the short-waisted effect.