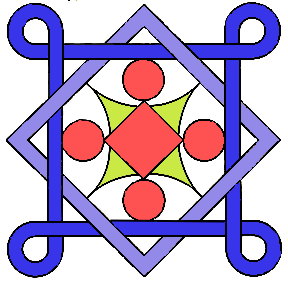 Found these patterns in an old book on drawing and two thoughts immediately jumped into my head…quilt blocks and embroidery. They could work as appliqué quilt squares, embroidery on plain-ish quilts or all-over patterns if made small.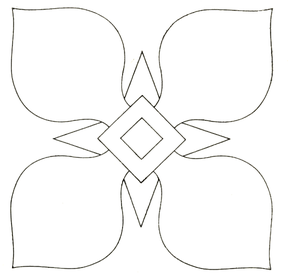 This is the first of the four floral embroidery designs I found. I think it wouldn't be super hard to turn into an appliqué quilt block. But, I also think it would be interesting as a base for a felt pin or other form of embroidery.
It has been resized to approximately four inches square.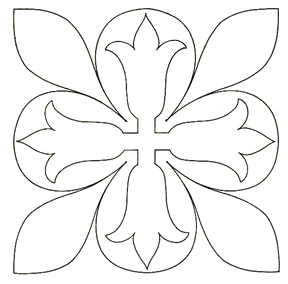 I really like the look of this design, it reminds me a bit of a Celtic design with a bit of heraldry thrown in. The flower on flower design would work for a number of crafty projects.
The instructions for drawing this flower amounted to taking a square piece of paper. Drawing lines from corner to corner and from side to side at the midpoints. If you imagine super-imposing the lines on the floral embroidery design here, you can see how making guidelines when you sew would make it possible (for those of you with a better eye than me) to not need a printed pattern.
This design was also resized to print at about four inches square.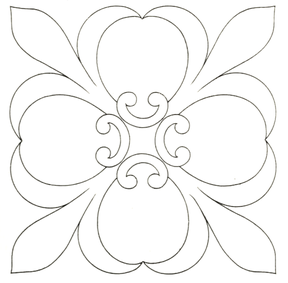 This quilt-like floral embroidery design might be a little fussy to turn into an appliqué quilt design. I suppose those little curlicues in the middle could be recreated with a bit of pre-made trim but I sure wouldn't want to try to cut cotton quilt fabric like that and expect it to not fray apart.
This one seems a bit like a flower with leaves but those central petals also remind me of apples.
This vintage embroidery design looks like a blend of a Celtic knot and some floral elements.
It is more geometric than the other 3 designs and would be really tricky to recreate in fabric – check out how the two frames inter-link with each other. I think it would look super cool embroidered though or made with felt.
The book these designs are from was published in 1895. It focussed on drawing and all of these used the technique of splitting the paper into quadrants and repeating the design in each. If you look at each design and divide it on the diagonals, you should see how it repeats and replicates itself.
Hopefully, someone will make something amazing with these quilt-like floral embroidery designs. I also hope if you do, you will share pictures of it with the rest of us.