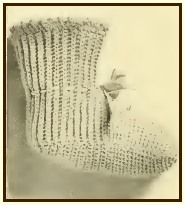 This vintage crochet pattern for a pair of baby booties looks fairly straightforward. It calls for "twofold saxony" but I suspect using a standard baby weight yarn might produce the right size.
The crochet baby booties pattern uses twofold Saxony and is widened on top like a slipper. The top of the foot, however, is not ribbed, as it is crocheted around and around, making the sole as well as the upper.
Chain 13, around which make a row of s c, widening 2 s c at each end of chain and at point half way between on one side, taking up back part of st only on upper side, and both parts on sole.
Continue thus widening for 5 rows, then widen in centre front only 2 s c every other row for 14 rows, making 19 rows in all. Then work back and forth across sole, taking up both sts of 20 s c for 14 rows, then leaving off 1 s c at each end of next 4 rows, fasten wool and clip. Tie wool in at centre point in front, ch 18, on which make 16 s c, which brings you to front part already crocheted. Work on down to sole, catching into sole by sl st, turn and work back to end.
Continue around the sole, working up and down, taking up back st and catching into sole, so that the rows of top will correspond to rows of sole; the model has 25 ribs or 50 rows.
Run ribbon through at ankle and finish the top of your crochet baby booties with a fancy edge.