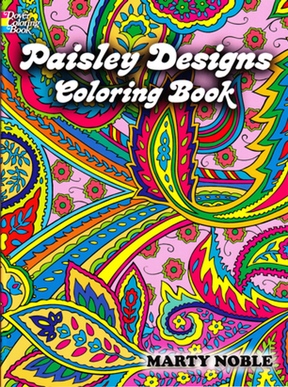 A week of snow and ice are to blame for my lack of posts around here lately. A two-hour session of ice-chopping left me with a sore hand and wrist. It's been hard to write, type and do most things for almost two weeks now. I did get something to share with you done before the winter wonderland descended upon us and I thought I would share it with you today.
It's funny sometimes how things we often associate with children become treasured parts of our lives when we're older. The world-wide trend of coloring as a way for adults to relax is certainly becoming such a part of my life. What's really ironic is my Mom reports that when I was a child I had absolutely no interest in coloring, crayons or even arts and crafts in general. The fact that all of them are now such a part of my life defies logic.
Anyway, in early December I was trolling around on Amazon and Mom walked into my workroom. I wanted to get her a coloring book for Christmas and thought rather than surprise her with a book she might not care for, I would let her choose. 3 days later she told me what she wanted. One was out of stock and the other wouldn't be released until March. We hoped we could add both to the order and get them as they came in. It didn't work out that way but in the end, we ended up getting two adult coloring books for Christmas.
Paisley Designs Coloring Book
The one I picked out was the Paisley Designs Coloring Book by Marty Noble. I selected it because I thought working with the paisley designs could inspire me with some of the felt work that I've been doing.
Marty Noble was introduced to art at an early age. All four of her grandparents attended the Cleveland School of Art at the same time. Marty's art career started with batik. But, many now know her as a somewhat prolific artist and creator of detailed coloring books. Dover Publications has produced a number of books with her illustrations.
Paisley Designs Coloring Book includes 30 designs ready for coloring. My one complaint with the book is that the designs are printed on both sides of the paper. But, with a publisher's suggested retail price of only $3.99, for 30 of her wonderfully detailed designs, I'll happily make copies . Besides, I still harbor a great deal of the inner critic who says I'm no artist. So, I liked the idea of having to photocopy the designs in order to not worry about ruining one design by using the one on the other side of the paper. Making copies of the designs would also allow for multiple members of the family to make their own versions of the same pieces – sssshhhhh don't tell the publisher I said that.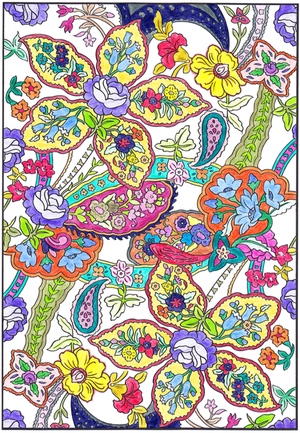 Since, it was obvious that these coloring pages would take a long time to complete, I thought it was worth using my better paper. I dipped into my small horde of photo paper and copied one of the designs onto it. I rarely use photo quality paper and don't see where what I used is still on the market. Amazon does have some by Epson that seems fairly similar to what I used.
So far, I've colored two of the designs. It was both fun and soothing. I look forward to when my silly wrist gets better and I can pull out my colored pencils and work on some more of the great designs in the Paisley Designs Coloring Book.
I colored both pages with a set of Crayola Colored pencils. I did a review of Crayola Colored pencils in another post but I think they are the perfect blend of value and quality for budding colorists like myself.
One thing I learned was to have a bit of scrap paper nearby to use for testing how the colors worked together. Was easy in my case since my darn printer ate the first piece of matte paper I tried copying the design onto – hopefully, your printer won't be as hungry.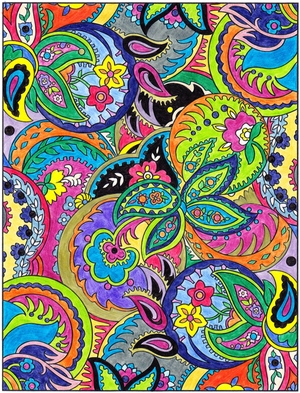 I like the way the second design came out a little better than the first one.
After leaving the background uncolored on the first design, I intentionally picked a design that covered the entire page.
With the first design I thought black would be too strong and was a bit more timid in my color choices. I think the black really added drama to the second coloring page and I'll probably use some black on every design I do. My black Crayola pencil seems a bit creamier than some of the other colors. The coverage was almost like using a black marker.
That also makes me wonder how nice these coloring pages would turn out if you used colored pencils and markers. I've read where some folks are using paint but I think Noble's designs really lend themselves to using colored pencils or markers.
I started working on a third design before the winter weather. It is by another designer and hopefully, soon I'll be able to complete it.