Google's edict that requires sites to be responsive or more friendly to hand-held devices has left me scrambling and rethinking all of my sites. Sadly, it's not left much time to craft.
I have been working for way more hours than it should have taken on a little notebook for my web activities. The one I have now works but the pages can't be changed around, so it's going to end up a bit of a mess with all of the changes I am making. I don't do many paper crafts and this was a chance to dabble and play with paper.
In the process of working with my faux chipboard, I broke my favorite single hole punch and it has led to a reminder to always test new tools. My trusty punch was a buck at our local version of the dollar store and I went back to get another. One of the employees mentioned that his had broke too. Now, I freely admit I abused mine and I don't know if any of the single hole, hand-held punches would have held up to the abuse.
So, down the road we went to Staples. They had two to choose from. A plain silver metal one or one with pretty purple grips. I had liked the rubber grips on my old one and well, these new ones were purple. I'm a sucker for purple. A little disappointed they were 5 bucks but I had a store credit/rebate from ink cartridges that was expiring, so I was feeling a little flush.
Opened up my purple hole punch this morning. I am so glad I wasn't near my notebook project. I took some draft pages from a writing project and punched a few holes. I thought they were nicely formed and it went through the 4 sheets fairly easily. But, I noticed some smudges on the paper. Our cat Tali had laid all over it the night before and I thought maybe between her and my evening snack we had simply made the paper dirty.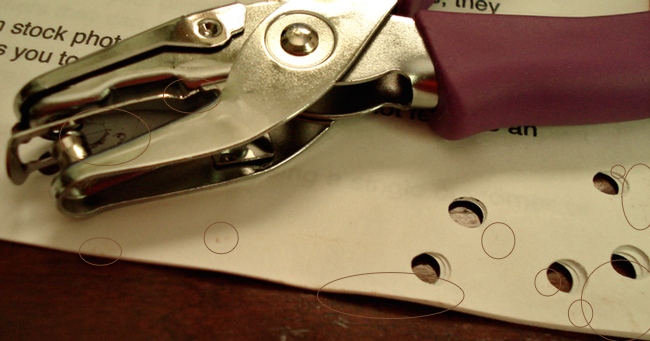 The purple gripped hole punch turned out to be the culprit. The paper guide has rusty spots – you should be able to see them in the photo. It is leaving orange-brown marks and smears all over the paper – a little harder to see in the photo but trust me, the edges of the page are a mess. Thank goodness I did not try it out first on my project.
I have used a lot of single and multi-hole hole punches through the years. Met more than a few that didn't make nice holes, but this is the first one that came new, out of the blister pack, full of rust that stains paper. The reviews were a mixed bag of they're great or they don't make nice holes, but I didn't see anyone else complaining about rust. So, maybe I just drew the short straw on this one.
They'll be going back to Staples in the next few days but I thought I would share my experience with everyone. Lesson learned, thankfully not the hard way, always test new tools on scrap paper before using them on a project.