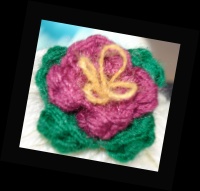 This free crochet flower pattern was inspired by a vintage crochet flower pattern that is part of the crochet flower basket pattern.
I thought the flower cup portion of the original crochet flower pattern was too small, so I made mine differently and have included my changes here.
When you make the central portion of the flower (the pink part), you might want to evaluate which side you would prefer to make face-side-up. If I were making this flower without the cup of leaves, I would use the back side rather than the front.
Crochet Flower Pattern – Forget Me Not
Make a chain of five and unite with a slip stitch. Working into the ring, crochet 1 single crochet/slip stitch), 2 long (make one loop on hook before making stitch and pulling through two loops at a time), 1 single; repeat four times to create four petals. Finish off.
Flower Cup
With green yarn and using the magic circle or other technique, create a circle with 8 stitches.
Double crochet (normal row stitch) in 1st stitch. In same stitch, crochet one double-long crochet (two loops on hook before making stitch and pulling through two loops at a time.) In second stitch, make one double-long crochet and one double crochet. Work around the circle in this fashion to create four leaves.
Flower Center
Using a bit of yellow or gold-colored light-weight thread or yarn, make either loops or straight stamens to complete your crochet flower.