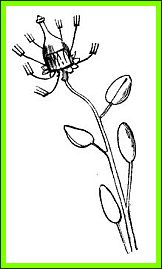 What better way to spend a few hours together than by creating a new species! Kids of all ages can put their drawing and creative skills to the test in creating a new flower. This project would make a great companion to learning about flower names and species.
I have to admit that this was not an original idea. The pictures in this children's craft project are from a vintage children's publication from over 120 years ago. It seems like with computers and the many available graphics programs available today, kids should be able to come up with really cool flower species of their own.
Best of all, every home has what's needed for this project – paper and pencil.
---
---
| | |
| --- | --- |
| Start with an everyday item – how about a fork? Draw a flower using forks for petals. Add a bottle and some spoons and you might have just discovered the first ever Bottlephorkia Spoonifolia. | |
| Maybe your family has a pet cockatoo – why not turn a drawing into Cockatooca Superba? | |
| One of our favorites is inspired by people – Manypeeplia Upsidownia. | |
So let your creativity run wild and have fun creating your own new flower species. Who knew drawing could be so much fun?
We'd love to see what you come up with and showcase your artwork on The Crafty Tipster.