Ever wonder if one of those bead assortments sold by weight are worth it? I know I do. The biggest worry for me is if they're work for earrings. Which means I need pairs of fairly light-weight components.
And, whenever I create, I prefer to make each piece unique. Even if the main pattern is the same, I try to change the color combination, decorations and/or general appearance. The biggest problem for me is that things like beads are often sold by a single style at a time. Other than seed beads and a few findings I frequently use, I don't like buying hanks, strands or dozens of the same thing. I'll often repurpose vintage jewelry or scavenge from my own jewelry box just to make sure a piece is truly one of a kind.
Components for Earring Making
I've been making more crocheted earrings lately, which means I need a new strategy. Even the multi-style packs and kits only have a limited number of styles. And, much of the time they're all the same shape and size – good for beads, but, no so good for spacers and fancies.
I've been eyeing several products on Amazon – most of them are from a third party vendor but shipped by Amazon. In particular, the BronaGrand Bali Style Bead Caps Deluxe Mix had caught my eye. It's a 100 gram package of random beadcaps for less than what many of the multipack kits cost. They said you would get between 250 and 350 pieces. But, would I get enough pairs of caps to use for earring making? Would the 'good', pairs make the investment worthwhile?
Generally, the reviews were 4 and 5 stars. A few years ago, there were some complaints about a particular bead style; but, it seems the vendor has removed them from these mixes.
Economical Bali-Style Bead Caps
So, I dove in. I paid around $8.00 on June 20, 2021 for the Antique Gold ones. They offer the mix in antique gold, antique copper, antique silver, bronze, gold and silver. This is what I received…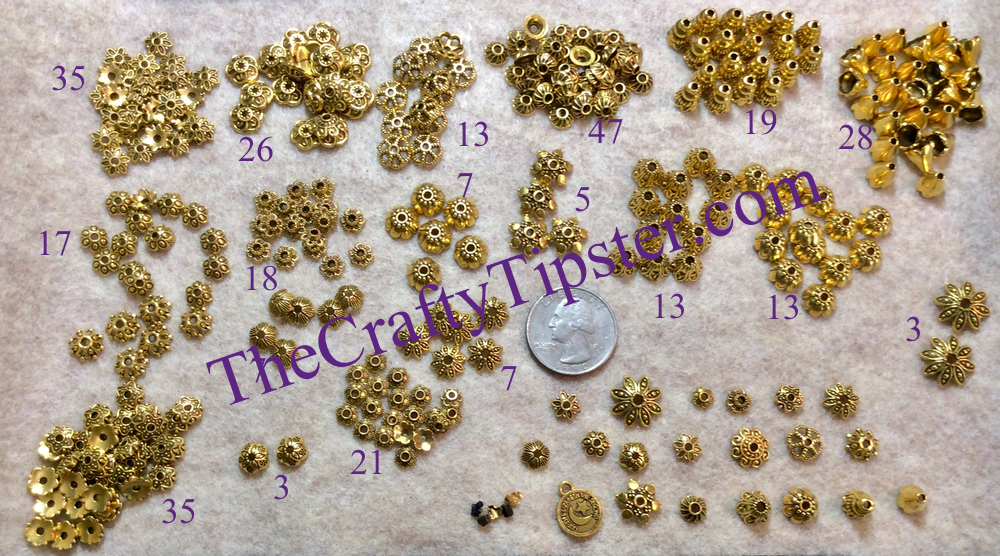 First off, the easy part… I received 305 Bali-style bead caps (found 2 I mis-sorted that were a different style and are not in this photo), one odd coin pendant and a few stray scraps of gold metal and black finish material. There were 20 different designs in varying amounts. They are all metal – no acrylic in the bunch.
The good, the bad and the truly ugly… again, we'll start with the easy one – the truly ugly. The coin, it says Queen Elizabeth the Second and has a moon and star. A bit of an odd pairing and definitely not a bead cap.
The bad… The style of cap in the top right that I received 19 of. Sigh, it's really pretty. I knew immediately how I was going to use them. But, each and every one of them has the same flaw in the patterning. It might not be that noticeable once used, but, the risk of ruining a pair of crocheted earrings just isn't worth it.
Additionally, the 28 cone-like beads next to those so remind me of the little metal pieces that were on the ends of light pulls in my grandmother's basement. And, just like the ones in her basement, they have a seam up the side. Overall, they're not bad and I think the seam might not really matter.
A few beads, probably less than 10, have flaws that might make them unusable (assuming a little filing won't fix them).
So, that leaves me with around 276 usable Bali-Style bead caps and 28 maybes; with around 13 unmatched ones left over.
The good? I received at least one pair of every style! I was worried I would get only a few interesting ones and a bucket-load of ones I didn't like. But, my package came with 20 different cap styles and I pretty much like all of them. I ended up paying (keep in mind, the price is likely to change) 40 cents per style or a little under 3 cents each cap. [Sorry, just realized I'm missing two of the styles and have duplicated the small six petal flower ones. But, you should get the overall look and feel of the wonderful variety I received from the photo below.]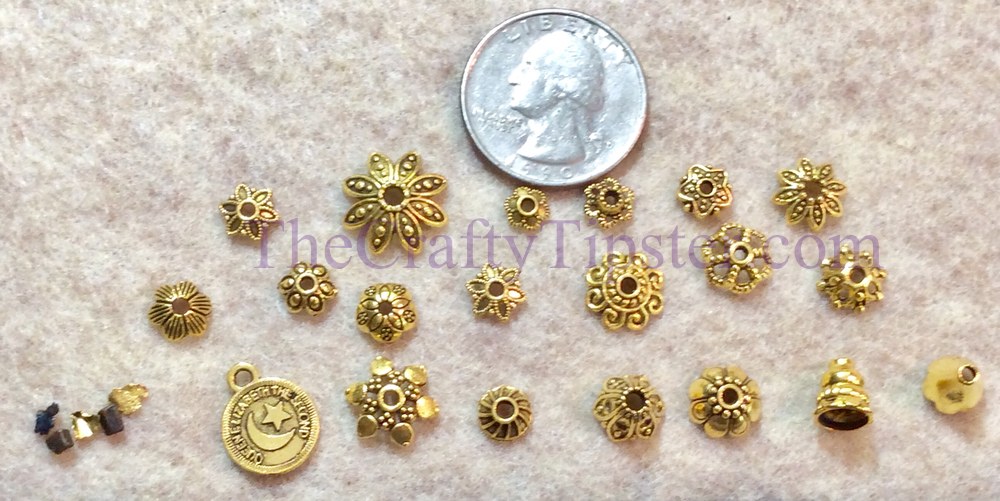 I'm very pleased with my order. The quality is great (minus the 2 already mentioned), there's a nice variety of sizes, shapes and styles. And, I expect every one of the remaining 18 styles will be incorporated into a pair of earrings. The only flaw? If I really like one of the styles, I can't order just those. And, if I order another mix, according to the comments, I'm likely to get a different amount of bead caps and bead cap styles. My mix only included 2 of the ones shown in the product description.
Would I order the BronaGrand Bali Style Bead Caps Deluxe Mix again? I think I see an antique silver or bronze mix in my near future. Oh, the vendor also has a number of weight-based sets for metal spacers, findings and charms as well. Might have to give in to temptation on one or two of those too. I'll let you know if I do.