Once the Mardi Gras parades are over and the crowds have departed the city of New Orleans; there's literally tons of beads left behind. City officials reported finding 93,000 pounds of beads in catch basins in 2017 and they typically collect 1,000 tons of debris after the festivities. There's so much, they have to use construction equipment to scoop the colorful, bead-strewn debris from the streets. A number of organizations have begun working to limit what goes into landfills and some local businesses are even turning the beads into a sort of currency – turn in so many pounds of beads, get a free whatever. There's even a great organization that recycles and resells the beads whilst creating employment opportunities for disabled workers – ArcGNO Mardi Gras Recycle Center.
We've never been in New Orleans during Mardi Gras but we have been to a few parades and other events where they also gave away beads. And, pretty much every thrift store we visit has a supply of colorful plastic, glued onto string beads. And, every time I see them, I think, gee, surely they could be turned into something cool.
On a rainy afternoon while just fooling around on Pinterest, I found more than a few awesome pieces of art, yep actual art, that was made with Mardi Gras beads.
Mardi Gras Bead Mosaics
Taking the beads and treating them like mosaic tiles is a practical and beautiful way to re-purpose the beads.
Stephan Wanger
Whether or not Stephan Wanger was the first New Orleans-based artist to turn what becomes an annual waste management nightmare into art, he could easily be the most well-known of the Mardi Gras bead mosaic artists.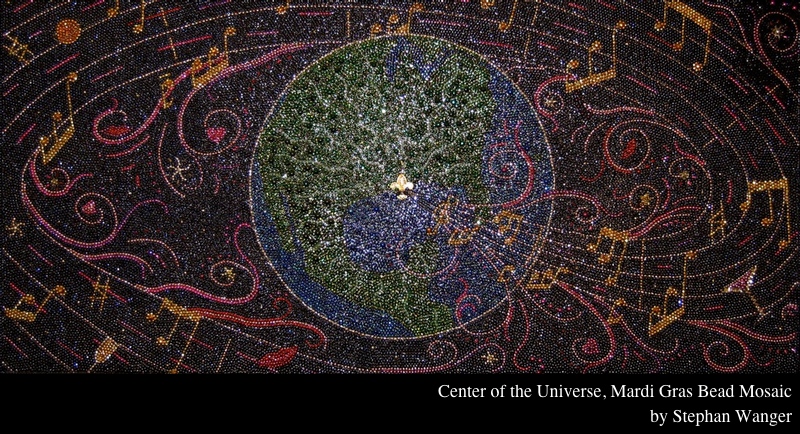 Here's a video of Stephan creating his stunning piece "My Beauty Underneath."
Tama Distler
Another fine artist working with Mardi Gras beads is Tama Distler. Tama also lives in New Orleans and her work includes such lovelies as this Iris flower.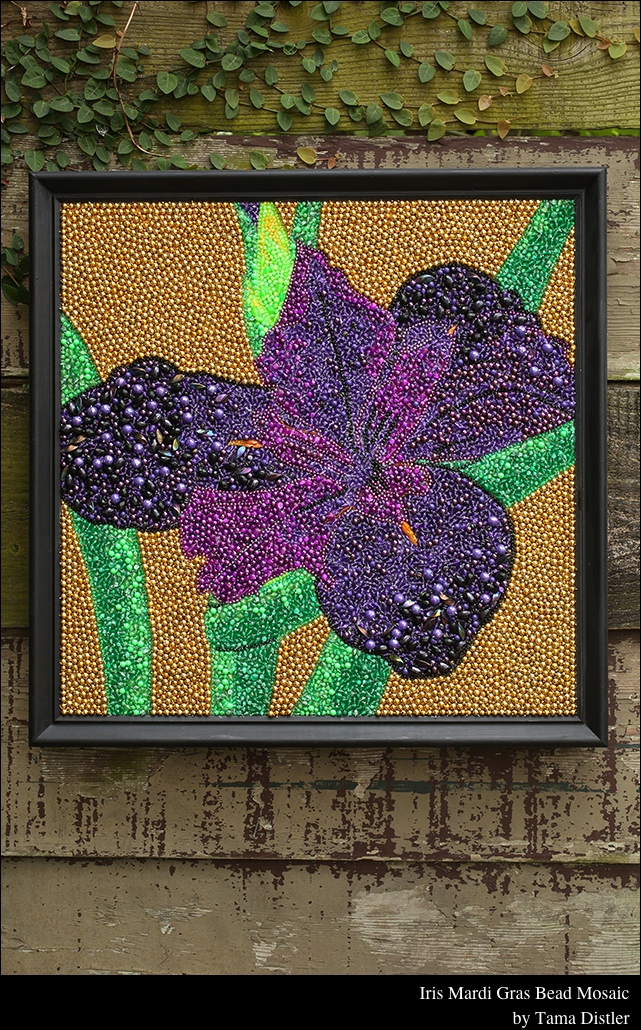 Tama tends to make pieces that feature Louisiana native flowers, sealife and the state bird – the mosquito.
Peggy Calahan
It took over an hour, but, I finally found the artist behind many of the Mardi Gras bead art mosaics that have been relentlessly pinned (without proper attribution). Its Bayouland Beads; the Etsy shop of Peggy Calahan, also of Louisiana. Unfortunately, when we visited her shop, she was anxiously awaiting the birth of a granddaughter and her shop was empty.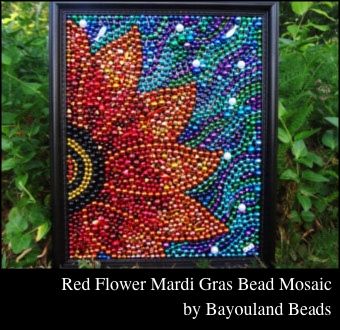 Rob Corley
Another wonderful artist that Pinterest and many gallery posts have failed to identify is Rob Corley. Not only does Rob do amazing mosaic paintings, like this stunning lion, he also creates larger sculptural pieces.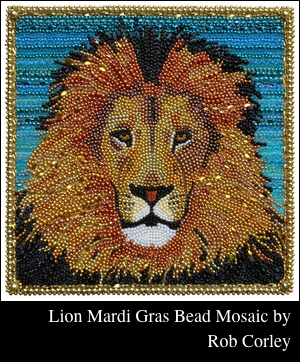 While it's doubtful most of us could create anything as stunningly beautiful as these artists, here are some more approachable DIY projects for Mardi Gras Beads.
Mardi Gras Bead Recycled Crafts
In searching the web for tutorials, it was hard to find pieces where the original artists and crafters are identified. Sadly, many are victims of Pinterest orphaning.
But, in my journeys across the web, I did pick up a few tips to get us started…
Mardi Gras Bead Mosaics – I think one of the most important aspects of Stephen's video, from an "Gee, could I try that?" aspect is the fact that he separates or de-strings the beads. Sure, leaving them on the strings would make the application quicker, but, the finished product suffers greatly.
Paint the surface you are gluing the beads onto a color that helps your design. Notice how in Stephen's video he used plain board except for the whites of the eyes. That area, he painted white.
Use a glue or adhesive that dries clear.
If you opt to leave the beads strung, the folks at MadriGrasOutlet.com recommend staggering them so the beads sit in the gaps from the row before. They share a tutorial to make a golden M – oh yeah, had to include that one didn't I.
Mardi Gras Letter Decoration
Their letter tutorial could be customized with your favorite font and bead colors.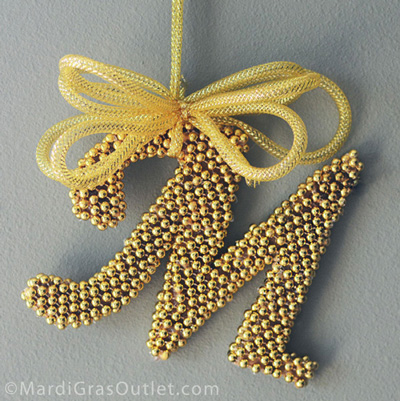 Beaded Lamp Shade Tutorial
Jaderbomb.com has a great way to glam up your decor with Mardi Gras beads – use them to create a DIY beaded lamp shade.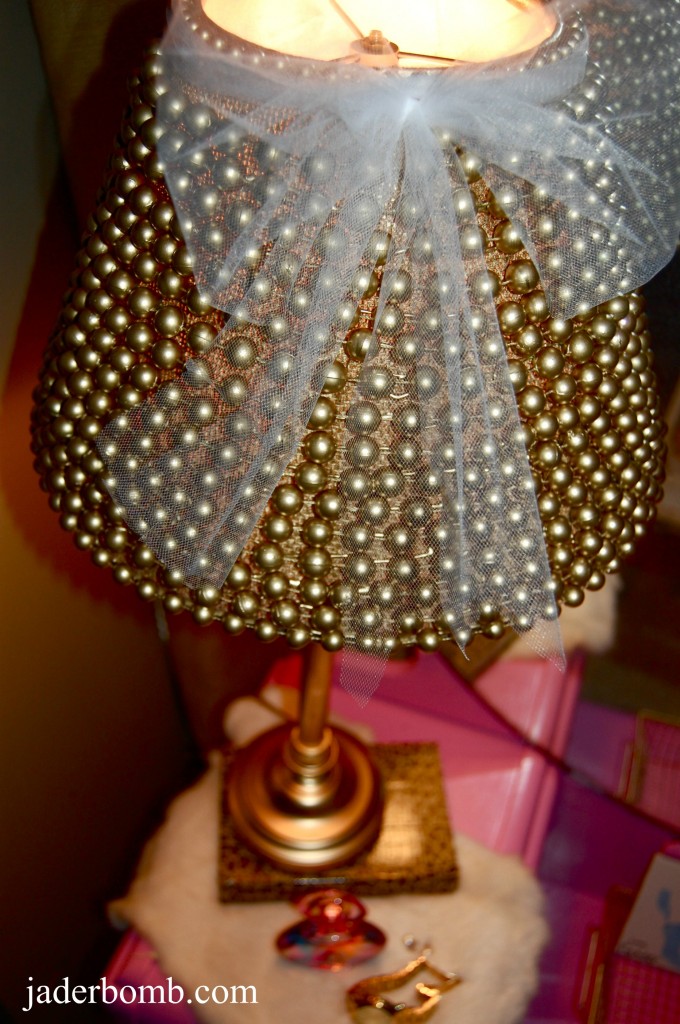 Mardi Gras Bangle Bracelets
Mark Montano, the designer who has been all over television and author of The Big-Ass Craft Book series has a clever and quick bangle bracelet tutorial. They look super cute and are super easy to make.
Mardi Gras Beads Crafts
If you're attending Mardi Gras this year or any other event where colorful strands of beads are involved, consider recycling by sending them to a group like the ArcGNO Mardi Gras Recycle Center, creating mosaics, lampshades or turning them into bangle bracelets.
Hopefully, in the coming weeks, I'll have my own project idea to share with you. But, until then, I would love to see some of your creations.