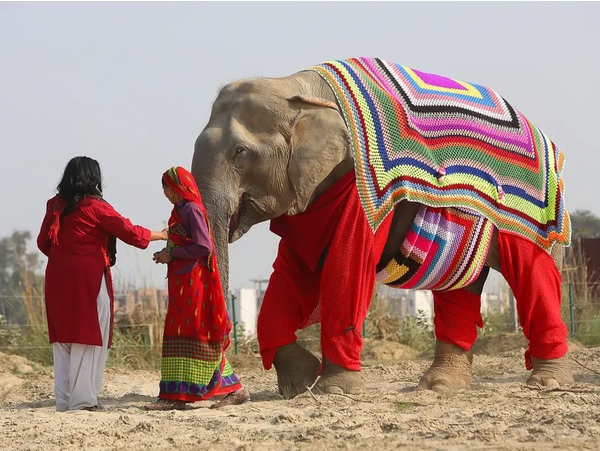 I didn't see this when it happened but it popped up on one of my feeds today. Back in late 2016 and early 2017, when India was having a particularly nasty cold snap, local women did some major league knitting. (I know, it looks like crochet to me too but the photos of the lady's making them showed knitting needles.)
The elephants were living at Wildlife SOS in India; a wildlife rescue and rehabilitation organization. The elephants at the facility are all rescued, often from harsh conditions, and can be quite fragile and suffering from a variety of conditions; including arthritis.
They had been making blankets to keep the elephants warm. But, I would guess they failed to keep their legs warm. The center's co-founders Kartick Satyanarayan and Geeta Sheshamani, thought that perhaps a more fitted covering would keep the animals warmer.
So, local women and a volunteer with the center created the elephant-sized jumpers to help keep the resident elephants warm. The article didn't mention how many jumpers were knitted. It did say it took four weeks to make the jumpers.
At the time, the center was hosting 20 elephants who were either blind, lame or recovering in other ways. Many had been abused. All of them were susceptible to ailments such as pneumonia.
I'm not sure why, but, I didn't find a lot of discussion about the knitted elephant jammies on the organization's own website – just the article from the Indian newspaper and another in the UK. But, if you have some time, I would recommend visiting their website. There's a ton of great photos and educational materials there.