I suspect that I'm spending almost as much time fussing with getting decent photographs of the things I'm working on as I do on designing them. The past few days have been gray and rainy and all of our attempts at getting some photos were an abject failure. The scanner did marginally better but with dimensional pieces it didn't do as well. So, today's sunshine came as a welcome relief. Finally, I can try to get some photos to share. I'm still working on getting photos of our elephants from our after Christmas elephant challenge but I did manage to get a nice one of the newest project that I'm working on…Valentine Rose Hearts!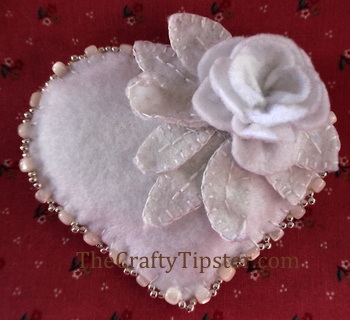 I made the prototype all in white. I plan on getting a tute and pattern together using more traditional Valentine's Day colors. But, I think the white is a little more classy and could perhaps be used all year.
We splurged and bought a pair of Ottlights just before Christmas. We returned them back to JoAnn's yesterday. The one I had fit on my desk perfectly but the 13watt bulb didn't light up my world the way I thought it would. Mom picked out one with a magnifier surrounded by a ring of lights. The magnifier was only a 2x and it was hard to even tell the difference between magnified and unmagnified. We're still looking, but it seems like every review we read has folks complaining even with the new lights on, they still can't see. Thank you to whomever decided the lightbulbs we've used for 100 years had to be replaced with craptastic stuff that doesn't provide light good enough to embroider with.
On a more positive note, JoAnn's still has all their sewing thread at 50%. A great time to stock up if you haven't already done so. The coupons for a percentage off your entire order can be used on top of the 50% – so it's an even better deal to grab while you can right now.