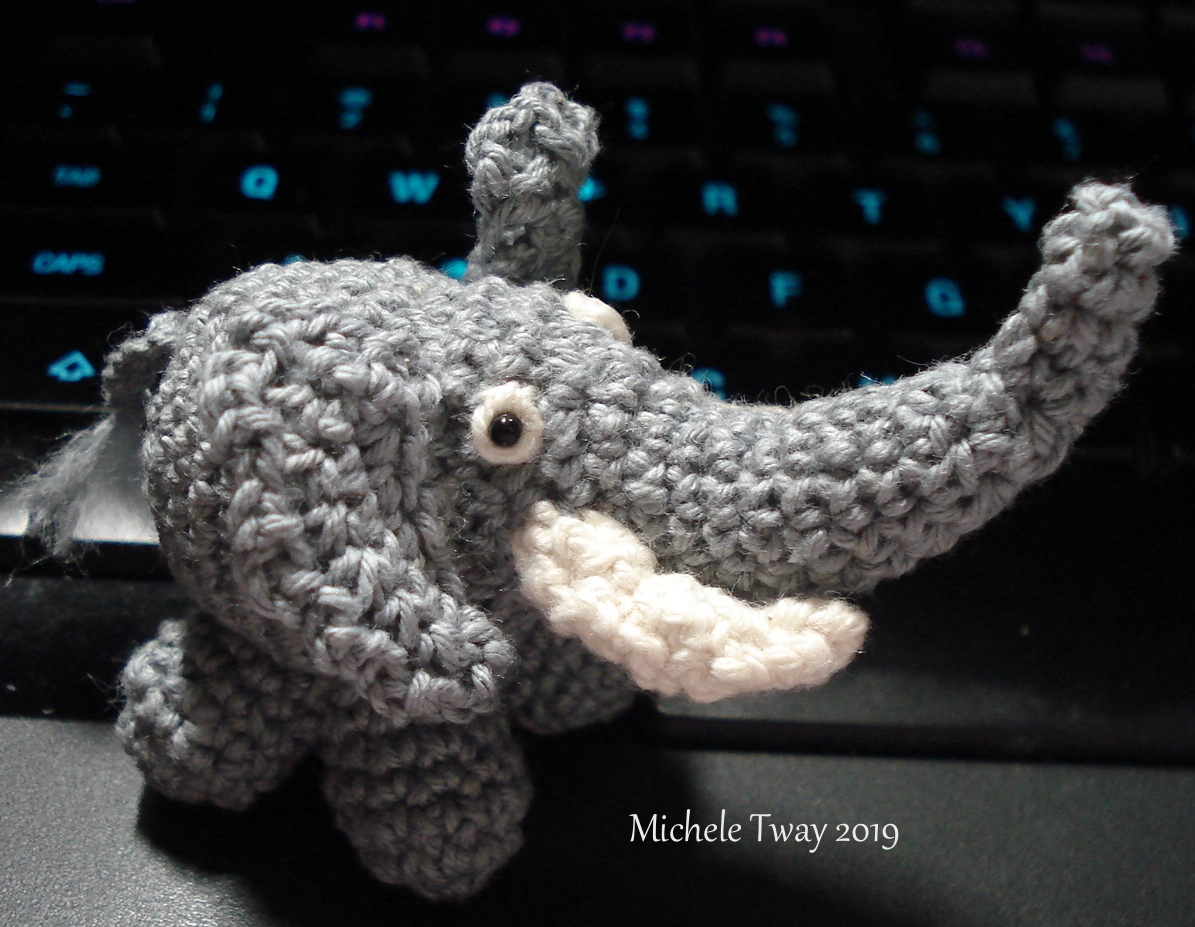 The other day I was looking for a cute small Amigurumi pattern that would work with some 8/4 carpet warp yarn.
The pattern was designed by Dana Van Ord and is called Itty Bitty Elephant.
I made him with two colors of the warp yarn and a 2.0mm hook – a particular favorite – one of the pink-handled Tulip hooks.
My Itty Bitty Elephant
What should be no surprise to anyone who knows me or has visited this site, I did make a change or two. Actually, I pretty much only changed the tusks. My goal was to make them a bit bigger and more prominent. I used a magic circle with only 5 single crochet. I went around a few times in a spiral. Around the third row, I intentionally skipped a stitch. About two rows later I skipped another. I didn't crochet the trunk closed. I simply stopped going around and used the tail to stitch the end of the tusk a bit more pointed and create a bend.
Dana didn't really provide a lot of guidance for the eyes. I tried a number of things and finally opted to just embroider a circle and use a teeny glass eye. I recently ordered some glass eyes on AliExpress. It was a package with eyes in three sizes. I thought I'd never use the smallest size eyes. But, they turned out to be the perfect size for my little pachyderm friend.
I generally prefer working with smaller yarns. But, going small did make the assembly a bit harder; particularly the legs. It was like all four legs had suddenly become animated and desperately refused to be jointed to the body. I ended up attaching them together with a bit of stitching and a band of crochet before finally sewing them onto the body. Made them a bit taller than they perhaps should have been but I was able to secure them firmly. Were I to make another, I would maybe make them a row shorter before the joining or try again to attach them without joining them first.
My Itty Bitty Elephant is quite itty bitty. I took the photo when my little gray friend was sitting on my computer keyboard. He sits nicely in the palm of my hand.