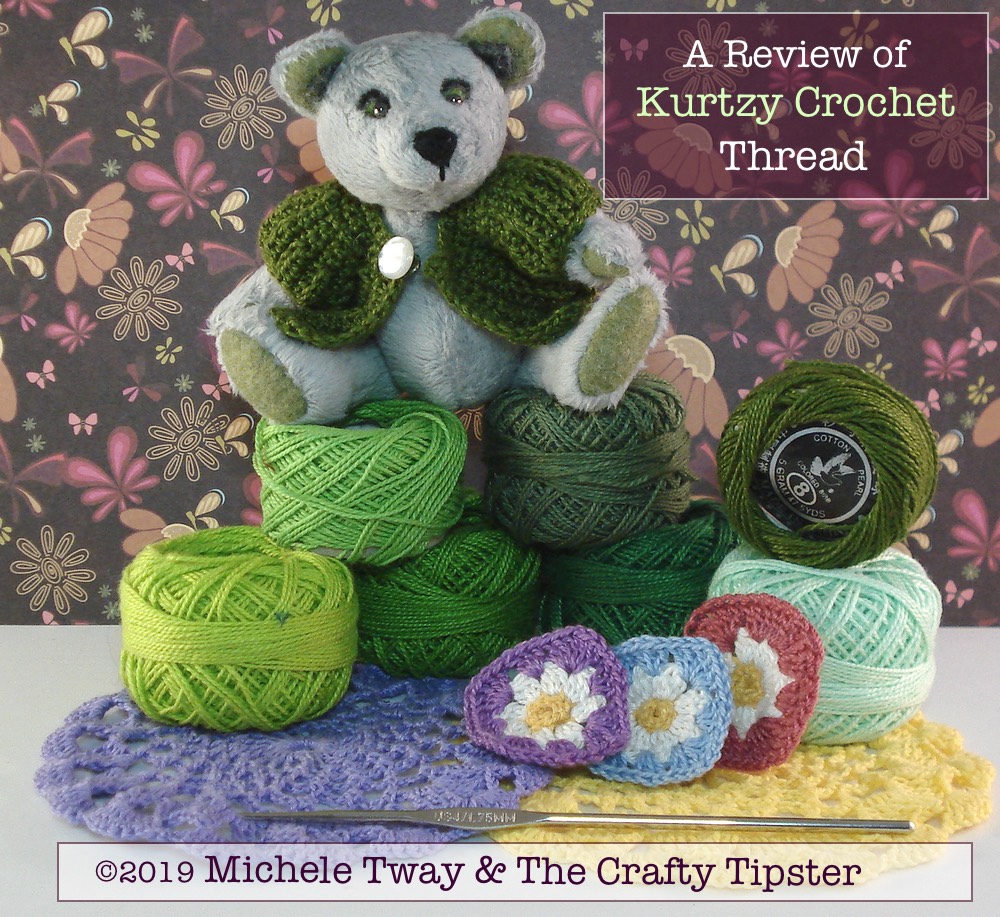 Have you seen Kurtzy Crochet Thread on Amazon? Have you been wondering if it is any good?
If you're anything like me and you're always looking for new colors of crochet thread to play with, you'll know that sometimes it can be difficult, and expensive to obtain a nice variety of colors. If you're making flowers or amigurumi, you already know the more colors you have in your stash, the more the creative juices flow.
I have a lot of crochet thread. It's a mixture of vintage cones and spools I inherited from my grandmother and things I scored at thrift stores, estate sales and clearance piles. But, just once, I wanted to have crochet thread that was all the same size and available in a rainbow of colors.
So, I whipped out my credit card and bought their 42 color crochet thread assortment.
Kurtzy Crochet Thread.
Do You Really Get 42 Different Colors of Crochet Thread?
I ordered Kurtzy Crochet Thread as a bit of a lark. I bought it in 2017. It was less than what it is being sold for now. But, it did not include the pair of crochet hooks at that time.
Did I really get 42 different colors to play with and did I like the quality of the thread? The reviews continue to be mixed. Unfortunately, it appears, not everyone gets all 42 colors. I ordered knowing it was a bit of a risk.
I received 42 balls of cotton crochet thread in 42 different colors. I thought I had snapped a photo, sadly I didn't before I used a bunch of the yarn. But, as you can see in my photo, I received at least 7 different colors of green thread. (Can't remember if I used one up.)
I would say that the included colors do lean to the florals. Lots of greens for leaves and plenty of pretty pinks and shades of red. But, the colors covered the full spectrum with a deep maroon, bright orange, dark brown, black and several shades of blue.
Update April 2021: Kurtzy has changed this product in 2 ways. The balls of thread now have their branding instead of the generic Eagle logo. And, instead of 42 different colors, buyers apparently receive 2 balls of 21 different colors – bit of a bummer that but still a great buy! You'll also get 2 double-ended crochet hooks.
What is Kurtzy Crochet Thread Like?
Let's start with the basics:
Cotton Crochet Thread
Size 8 (It's closer to an embroidery thread size 8 than a crochet thread size 8. See photo below for comparison.)
Non-mercerized (as stated in the product description)
Strong (I couldn't break it with just my hands)
47.5 meters per color
Michele's Recommended Hook Size: 1.75 – 2.0 mm
Is it Colorfast?
Price and the general reputation of a brand don't always guarantee a yarn or thread will be colorfast.
I had some national brand red crochet thread run to the point where it stained my fingers. I've purchased other, fairly expensive crochet thread where you could see the white, undyed thread in the middle of the strands.
When I received my Kurtzy Crochet Thread I torture tested it. After all this was cheap yarn, from a company that I've never purchased from before.
So, before I crocheted even an inch with this thread. I did everything I could to get it to bleed.
I tested the white, black and the red threads. I poured boiling water on them. When it didn't run and the white didn't absorb any color, I actually put the yarn in a saucepan and boiled it. Still no running of the dye. I took the dark colors and a white bar cloth and rubbed and rubbed and rubbed. No color transfer.
Then I used vinegar, like Staci on Very Pink suggested. Still no loss or transfer of color.
And, hot water with soap? Again, it didn't run.
So, yes, the Kurtzy thread is colorfast.
How is the thread quality?
This crochet thread is not mercerized. It is not slick and shiny like thread that has been mercerized. It's softer, a lot softer. But, even though it's soft, it doesn't split like Sugar & Cream does. What really surprised me is that it is fairly evenly spun. I've not run into big sections of extra thick or thin fibers. And, I've not run into knots within the spools I've played with. (Shame on you companies that sell crochet thread with a bunch of knots in it – it stinks and you know it.)
Below is a photographic crochet thread comparison of 7 different crochet threads I had on hand.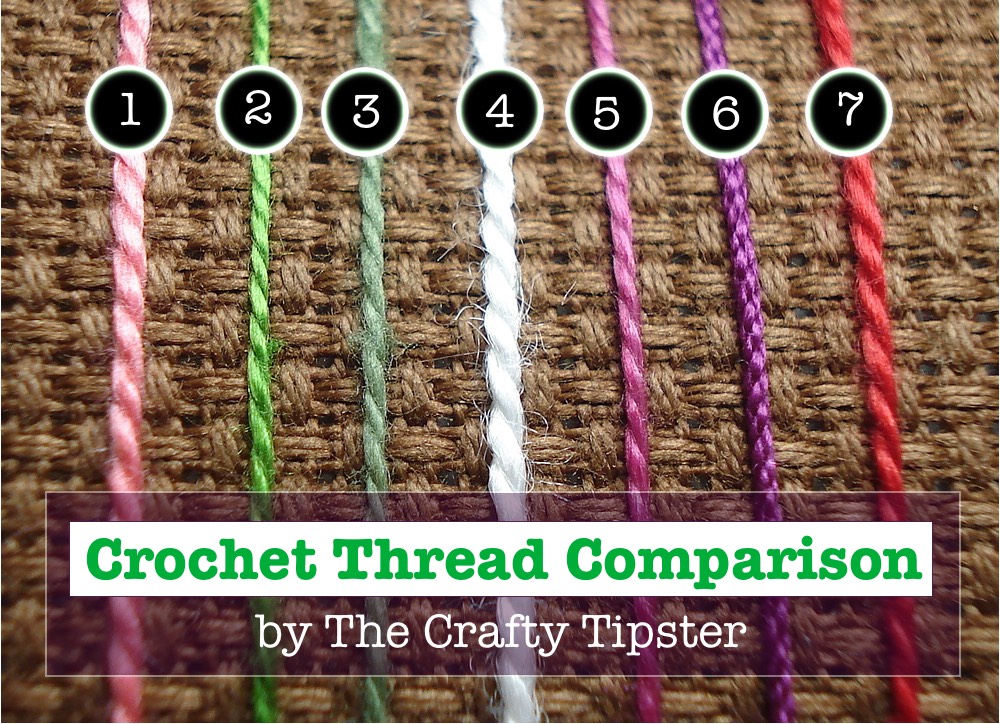 DMC Cotton Pearl Size 5 Skein Made in France
DMC Pearl Cotton Size 8 10g ball Made in France
Kurtzy Cotton Crochet Thread Size 8 Made in China
Hobby Lobby Artiste Acrylic Crochet Thread Size 5
Presencia Finca No 8 Mercerized Egyptian Cotton from Spain
Lizbeth Cordonnet Size 10 Mercerized Cotton Made in China
Valdani Pearl Cotton Size 8 Made in Romania
As you can see, the Kurtzy Crochet Thread, is pretty comparable in quality to the other brands upon close inspection. I was actually surprised that with the magnification of my camera that the Kurtzy crochet thread is not really fuzzy just soft. And, while it is a little thinner than the DMC Cotton Pearl; they're fairly comparable in both twist and fuzziness.
What can you make with Kurtzy Crochet Thread?
As if you haven't already figured it out, I like this thread. I love all the beautiful colors and the quality is excellent.
Doll Clothing
I've used this thread to make sweaters for my Sweater Bears.
Crochet Doilies & Motifs
I've used this thread to make crochet doilies and motifs. If you look very closely at the picture below, the softness of the yarn does not lend itself to the same level of stitch definition obtained when working with mercerized cotton crochet thread. (The rose yarn on the central motif is mercerized cotton.)
However, it does provide a fairly high level of stitch definition and does make a pretty doily or motif. Though, I admit, I'm not sure how well it will maintain that level of stitch definition through years of use.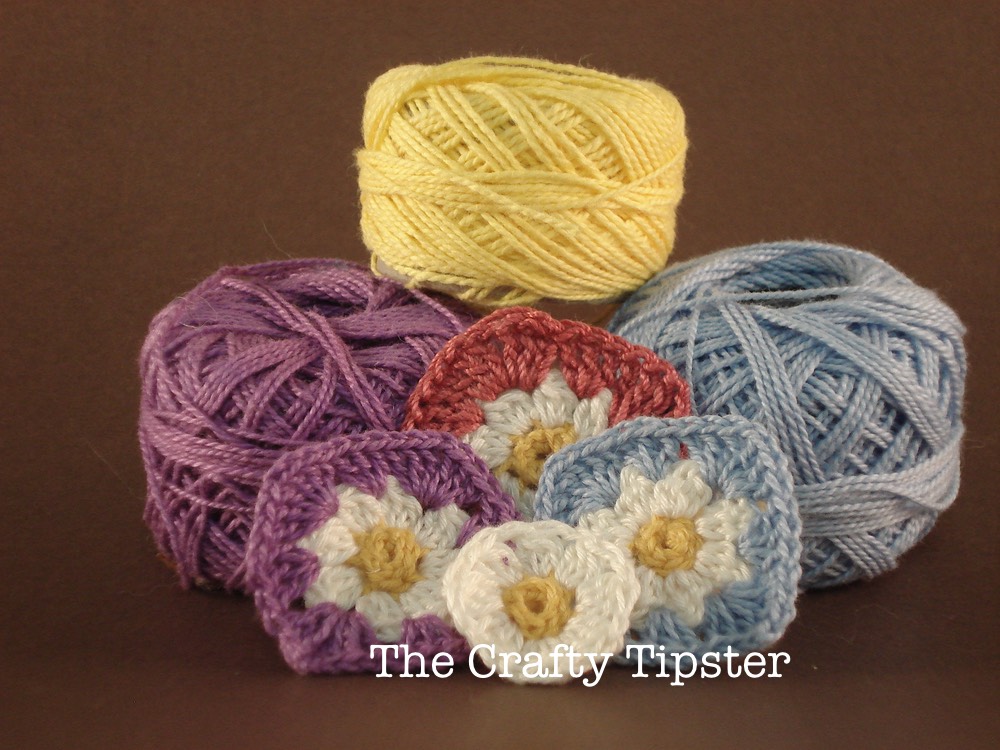 Amigurumi
I've used this thread to make small amigurumi. That's when the softness of this unmercerized cotton crochet thread is really useful. It retains the stitch definition but also makes a nicer fabric than the more sewing thread-like crochet thread does. Pieces I've made with the mercerized cotton thread, just look stiffer, are harder to shape and tend to not cover the stuffing as well.
Crochet Flowers & Embellishments
I've used this thread to make crochet flowers and crochet leaves. It is perfect for making little embellishments!
Is it worth it?
Clearly, the value here is in getting so many different colors in the same thickness of crochet thread.
It's not the same quality as DMC, Coats, Valdani, etc. It doesn't claim to be. But, it is pretty darn nice, unmercerized cotton crochet thread.
Let's stop a moment and consider that each of those higher-quality crochet threads can cost anywhere from $2.50 to $6 a ball for several hundred yards. The cheapest and most similarly sized thread where you could get such a large a variety of colors would be size 3 DMC Pearl Cotton Thread which has 16.4 yards or size 5 DMC Cotton Pearl Thread with 27 yards (#1 in the comparison picture). Even on sale, they can run $1.35 a skein.
To get 42 different colors of the more well-known brands it would easily cost between $56.70 and $252. And, for that $56.70 you would have only slightly more than half the yardage (1134 yards with the size 5 DMC vs 1995 yards with the Kurtzy) and only 688.8 yards of the size 3.
Would I Buy Kurtzy Crochet Thread Again?
I like this crochet thread. The colors are amazing – and they are colorfast and the dye goes all the way through the yarn.
There's just not a cheaper way to get your hands on this many different colors. Sure, these aren't big spools with hundreds of yards of thread on each one. But, I have been pleasantly surprised how far it goes. As you can see, my bear sweater was done with one ball and I had leftovers.
I like that it's not mercerized. Sometimes, you want something a little softer or not so slick and shiny. I like it a lot for amigurumi and doll-sized, or bear-sized clothing.
Many of the reviews on Amazon are mixed. There's been 2 major complaints; one of which seems fair the other not so much. The folks who didn't get 42 different colors have a fair complaint. I received a full set. (And, yes, I paid for mine. And, no, they didn't ask me for this review.) Others complained it was too thin for anything or not enough on each spool. The size is a bit off. It's clearly too thin to be size 8 crochet thread and a little too thick to be a true size 8 embroidery thread. But, I suspect many simply didn't know that this wasn't yarn.
And, even though the price appears to have increased since I originally purchased the Kurtzy Crochet Thread, I would buy it again if I needed to replenish my stash.