After my first foray into cross stitch alphabet patterns with the Christmas Cross Stitch Alphabet, I thought I would dig among my sources for a second pattern to try and share with you.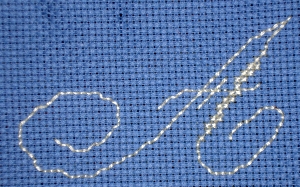 This cross stitch pattern has letters which turn out fairly large. The A on 14 count Aida cross stitch fabric is 3 inches wide and just under 2 inches tall. Which makes them great for monograms and crafts but maybe a poor choice for a traditional sampler.
I stitched my letter true to the pattern but I think I would soften the lines a bit more so those odd jogs on the front loop would be more of a smooth curve.
Interestingly, this vintage cross stitch alphabet contains all 26 letters plus an extra. I think it is a lower case letter T. Alone, it would be a little hard to identify but since it is included next to the upper-case T, I am assuming that's what it is. Also, I'm not really a fan of the S. It doesn't really look like a letter S to me.
I think this cross stitch alphabet pattern makes up quite pretty and delicate. Since the lines are only one thread wide, you would have to have a high contrast between the thread color and the color of your cross stitch fabric. I thought I had used a very contrasting thread and yet the photo doesn't show up anywhere near as well-defined as it looks in person.