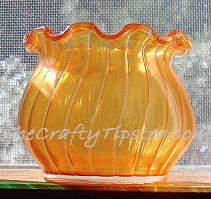 There's a Pin making the rounds on Pinterest that suggests using Mod Podge to tint Mason Jars. I thought that might be a great way to add a bit of style to my upcoming glass block project.
My glass block has grooves and I wondered if the Mod Podge glass tint trick would work with a grooved surface.
After a few thrift store stops, I was armed with four small, grooved glasses.
So, I took two of my glasses and gave it a go.
What you'll need…
Mod Podge (I used matte)
Food Coloring
Water
Wax Paper
Newspaper
something to stir with
Never, ever forget, food coloring is an extremely strong dye. It dyes just about anything it hits. Place a generous amount of newspaper down on your work surface and then place a good-sized piece of wax paper on top of that.
Remember too, Mod Podge is white when it's wet but it dries clear, so your mixture will not be as dark as the final product.
Coating the Glass with the Mod Podge Glaze
I didn't want to waste my supplies, so I mixed the ingredients together right in the glass I was coloring. I used around a tablespoon and a half of Mod Podge and dripped some water off of my fingertips into the glass.
I wanted dark orange, not pastel orange. I used around a tablespoon and a half of Mod Podge and around 4 drops of yellow and 4 drops of red food coloring (I wanted bold, in-your face colors, so it might have even been more than that). It took quite a bit of gentle stirring to get it fully blended. My glaze was dark peach. It seemed like I couldn't get the glaze any darker so I stopped adding food coloring.
I took the Mod Podge glaze and slowly swirled it around in the glass. I learned the hard way that any air bubbles left in the glaze will create small blisters in your finish.
I patiently let the Mod Podge slowly work it's way around the glass. I would have been quicker to paint the glass but that wouldn't be an option with my glass block project.
After I had the entire glass covered, I placed it up-side-down on wax paper. After a few minutes, I gently lifted the glass off of the wax paper and moved it to a clean section of the paper. It took several cycles but eventually there were no more drips of Mod Podge glaze on the paper.
I placed the glass up-side down on the oven rack. I set the oven at somewhere between WM and 200. It took quite a while for the Mod Podge to fully dry. The good news is there doesn't seem to be any ill effects if you leave your glass in longer than necessary.
The glass was hot. Thank goodness I used a potholder.
This was a fun project and yay it's really, really orange too.
Coloring Glass with Mod Podge Experiment Part II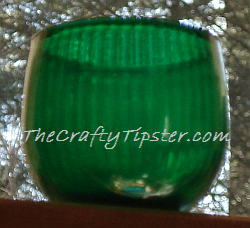 Dark, vibrant color…check.
Less transparent…sadly no.
What if I put a second coat of Mod Podge glaze on the glass? Would the color get darker and the glass less transparent?
Round two, this time with green. Again, I wanted a really dark green and ended up using probably 4 drops of yellow and 5 drops of blue to a relatively small amount of Mod Podge and water. Two firings later, I had a beautiful green colored glass in my hands. As you can see, it is much darker than the orange and far less transparent in daylight.
There are a few teeny bubbles in the glaze. I'm not sure if that was a mistake on my part or the result of sitting in a sunny window.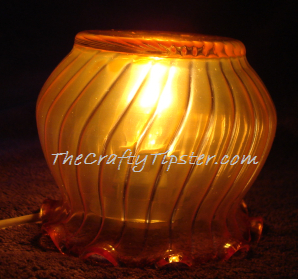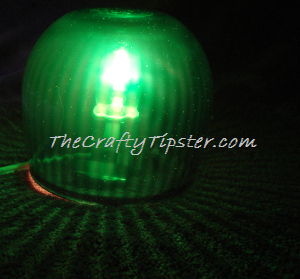 With both glasses you can still see the light fixture. However, the green glass casts a greenish light and it also radiates a sunburst pattern of light.
Mod Podge Experiment 3
On Mod Podge Rocks, Amy shared Mod Podge window clings tutorial. I wondered what would happen with the leftover Mod Podge and food coloring glaze once it dried.
While I don't know how well it would hold up to being drawing on and cutting with a scissors, The Mod Podge, food coloring and water glaze does make a rubbery solid that clings to windows.
If you hadn't already guessed, the circle is simply a ring of excess Mod Podge glaze that dripped onto the waxed paper and well, the 'M' is an example of my burgeoning artistic skills. The window cling dried to the same color as the glass so they look really great together in the same window.
The cling has stuck to a sunny window for over a week now. The tip of the M has peeled off a bit but does stick right back down again.
I loved being able to do something with the leftover glaze. But, using the acrylic paint as Amy suggests is probably a far better idea for making window clings.