My latest love is sewing and sculpting tiny plushies. At Christmastime it was 5-way jointed teddy bears wearing sweaters. (There's a few still available at The Wool Room".)
For Easter, it's wee little bunnies! There's 3 currently waiting for new homes at The Wool Room.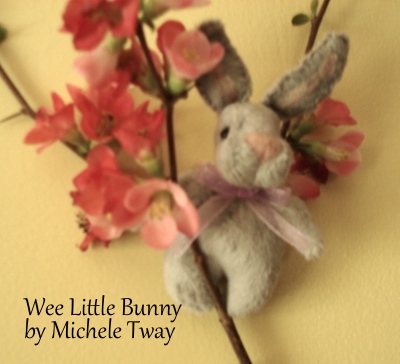 I caught this little bunny just hanging out among the flowers. The trio of bunnies are all pocket-sized and made from my own pattern. They aren't jointed like the bears but, they do have the cutest little puff tails. (Wish I had gotten them to sit still long enough to take a picture of one.) They come with a glittery pink gift bag already filled with bright yellow Easter grass.
I had originally hoped to utilize an existing bunny pattern. I tried several patterns I found online but none really provided the puffy cheeks I was looking for. So about a dozen heads later, I came up with a pattern. I'm not sharing or selling the pattern, for now, but I'll just say, it's all about the gusset.
Anyway, if you're in Hendersonville and looking for a super cute Easter gift, maybe one of these cute wee little bunnies would be perfect. They're available at The Wool Room for a limited time.