A dear friend asked me to make her mother one of my crochet bears. She wanted it a little larger than my thread bears as they aren't particularly huggable. The only other request was that it had to be purple.
Me, being me, and left with such an open task; I made a prototype and planned on asking if I had the size and style right. Then, assuming both were good, I planned to go to the store and get some new yarn; rather than the stash yarn I had used.
I worried if it was good enough. If it had enough purple. And, I worried if it was big enough.
Teddy Love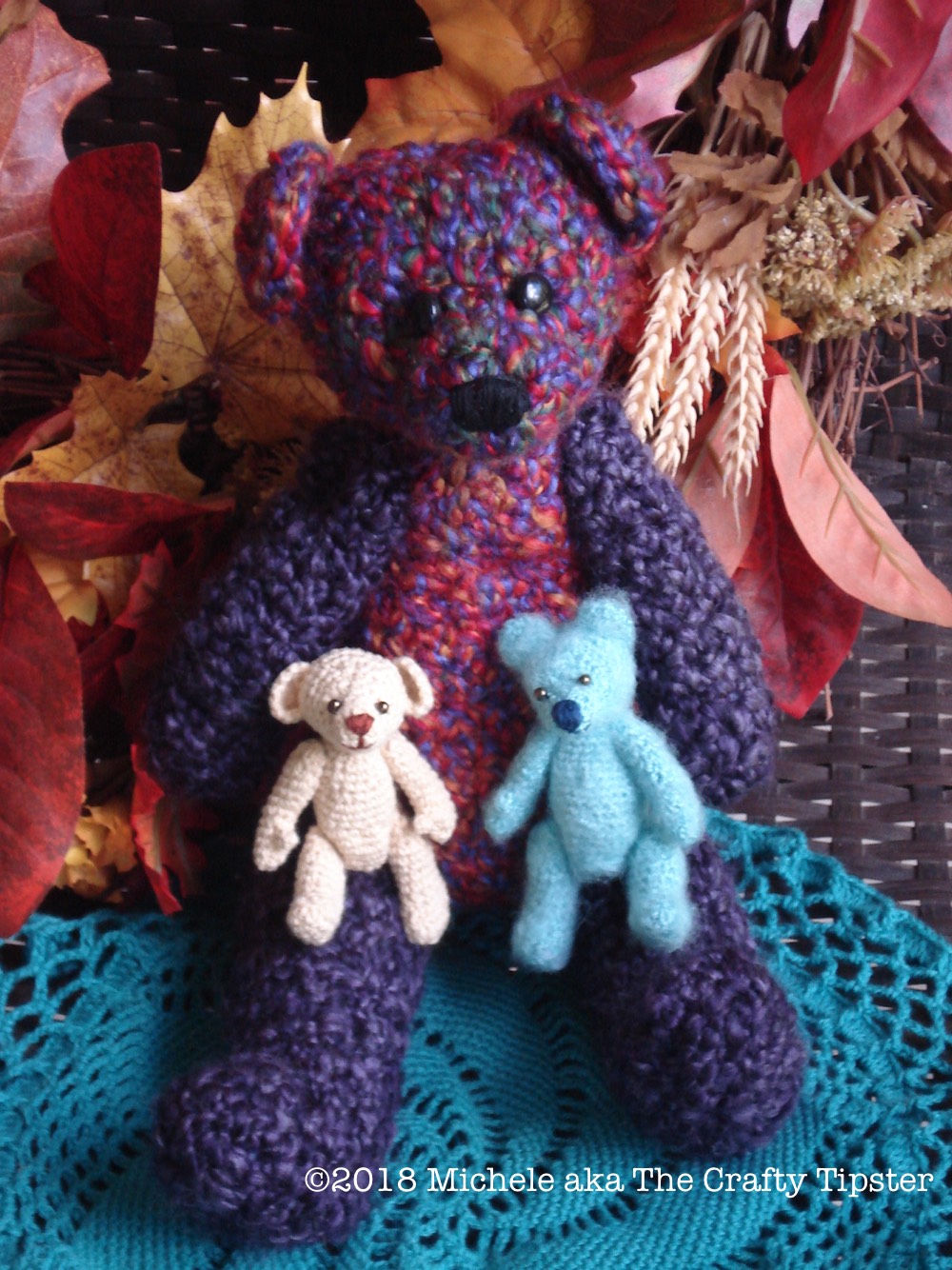 This trio of bears posed for a photo shoot as I was taking my prototype to be inspected. Thankfully, I took the time to get this shot. It was the only one I would ever have the chance to take.
With one look at my prototype, it was deemed absolutely perfect. But, it wasn't the finished bear, I said. She said, "Don't touch it, it's perfect."
So, off he went to his new home.
Where he has become a much honored resident. First being put into the teddy chair and then honored with a place on the bed. He has a right and proper name, but, at the moment it escapes me. But, it was quite classy and a little old-fashioned. I've been told, he has many new friends and is truly treasured by his owner.
I smile and think of the joy my little prototype is bringing to a woman close in age to my own mother every time I see my friend.
What I Crocheted
Mom may have made the fall wreath but the trio of bears and doily are mine.
I wish I could find the pattern for the crocheted doily in the photo. I'm not entirely sure if it is another one where I started with a vintage pattern and changed parts of it or if it is entirely someone else's pattern.
The two of bears are entirely mine. I've been playing around with crochet thread teddy bears on and off for at least 12 years. The blue bear was made with Hobby Lobby Artiste and combed out with a felt brush. The other bear, so I'm told, is a dead ringer for the Grateful Dead marching bears.

I guess, he is pretty close. I might have to explore that design further perhaps.
As for combing out or fuzzing up the blue bear, I used this clever tool that was actually designed to be used with Japanese Bunka embroidery. (Here's a link to the United Bunka Embroidery Association if you would like to learn more about this art form. The quick version is that it is a type of punch needling that uses specialized threads with slight kinks in them.)
It's a bit like a teeny wire pet brush. It is a great tool for fuzzing up amigurumi and pulling fur out of sewn seams on stuffies.
The commissioned teddy is button jointed and was done with two colors of discontinued Lion Brand Homespun. Whether you love or hate working with that yarn, you have to admit it makes a really pretty bear.
The body and head were made from this really wild gradient stuff. Only problem was when I bought it, I thought it was a nice fall ombre with golds, reds and oranges. Deep in the middle of the skein, it suddenly turned to the purple blend. Nasty, nasty, ugly for the original project. So cool for this bear. And, look how wonderfully it matched the purple. He's truly one of a kind! Love when that happens. Even I couldn't make another one if I wanted to – no more yarn.
If you can work with it, I really recommend it for stuffed animals.