Finally the wrapping paper won't live in the back of the coat closet. Finally, the wrapping paper won't tilt out at the worst time and fall out of the closet. Finally, we found a great way to protect the wrapping paper, store it somewhere out of the way and have it somewhere we can get to it when we need it.
OK, so this isn't exactly a "craft tutorial" or "family craft" but if you have ever thought it would be easier to throw out your leftover wrapping paper then figure out how to store it, you've come to the right place.
Best of all, this wrapping paper storage idea is cheap, cheap, cheap. No, you don't need that fancy, plastic wrapping paper storage container they sell around Christmas. Not only do those things take up a ton of closet space, they also are often too short for the longer rolls.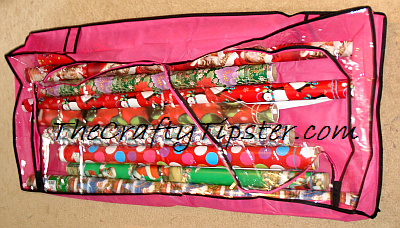 We purchased a pair of under bed clothes storage bags. When filled with clothing, the darn things no longer fit under any of the beds. But, they easily contained our 9 rolls of wrapping paper including the extra long ones. There's even room for tape, bows, ribbons, tissue paper and maybe even a few gift boxes.
We purchased the bags during Back to School season for only $4 at Dollar General. They might not have them all year and you might not find them at that great price but it will be worth it if you hunt one of these bad boys down. Trust me. The aggravation that those tilting, spinning and falling tubes of wrapping paper caused us is gone and that is certainly worth the $2 bag we used.
No related posts.