The great thing about this spool knit doll skirt pattern is it is so easily adaptable for any size doll. The doll skirt pattern dates back to 1909. Little girls today should have even more fun making skirts for their dolls with all of the new pretty colors and textures of yarn available.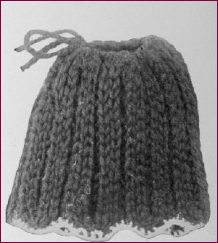 Using this a spool knit doll skirt pattern to make a skirt five inches long will require five yards of flat knit cord. If you require a refresher or do not know how to spool knit, please visit how to spool knit and you many also need to learn how to make flat spool knit web using two posts.
To make the fabric of the skirt, you will be snaking the spool knit cord back and forth and sewing the lengths together. To get a prettier skirt, make sure that your stitches are made into the same line of stitches on the cording as you move down the cord.
The first and last rows are made one and a quarter inch shorter than the other rows forming the skirt. These two rows are sewed together when the spool knit skirt is finished, thus forming the placket and also the desired fullness in the back.
There are sixteen rows in all. Each two, when sewed together, form a scallop at the top and bottom where the web is turned. In sewing, care must be taken to have each row the exact length of the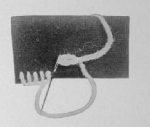 preceding row except in the first and last row if you wish to make your doll skirt as shown. You could create a different look by alternating the lengths or leaving some of the bottom of the row un-stitched.
The top of the spool knit skirt may be finished with a draw-string or a band made from cloth. The bottom of the skirt may be left as it is, or be finished with a blanket stitch of some contrasting color. How to make a blanket stitch is shown to the left.
---